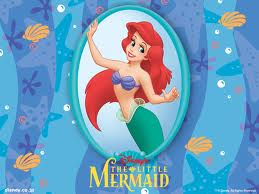 The Florida Chautauqua Theatre is happy to invite you to join us as we present Disney's "The Little Mermaid"…the Broadway musical based on one of the most celebrated animated films of all time and winner of two Academy Awards for best original score and for best song, "Under the Sea."
In a magical kingdom fathoms below, the beautiful young mermaid, Ariel, longs to leave her ocean home to live in the world above.  But first she'll have to defy her father, King Triton, make a deal with the evil sea witch, Ursula, and convince Prince Eric that she's the girl with the enchanting voice.   With memorable lyrics by Howard Ashman and Glenn Slater, classic music by Alan Menken, and a humorous book by Doug Wright, "The Little Mermaid" will thrill audiences of all ages
42 local actors ranging in age from 5 to…well, let's say a bit older than 5!…will fill the stage with singing, dancing, and laughter.  This beloved fairy tale will feature the spectacular costumes our Florida Chautauqua Theatre patrons have come to expect from the hands of our amazingly talented costume mavens.   Disney's "The Little Mermaid" offers a wonderful opportunity to bring your entire family together for live theatre at its best and to support the arts here in our extended community.
And…what a perfect way to spend Mother's Day!
Production Dates are:
Thursday, May 9th at 7:00 p.m.
Friday, May 10th at 7:00 p.m.
Saturday, May 11th at 7:00 p.m.
Sunday, May 12th at 2:30 p.m.
Ticket prices are:
Adults    $15.00
Students (22 and under)    $10.00
For more information call 850-892-9494 or email [email protected] .
The Florida Chautauqua Inc., is a 501C3 nonprofit organization.