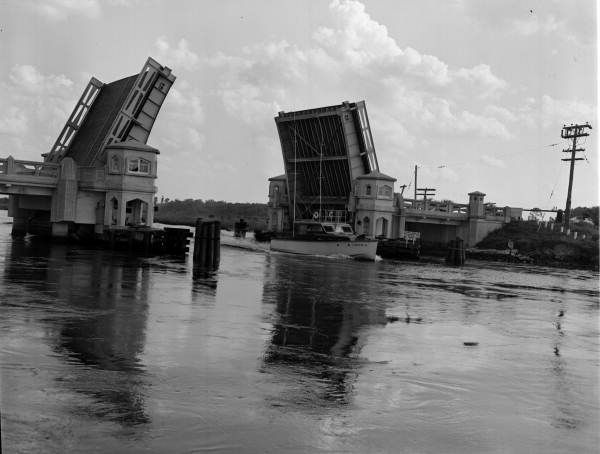 Grit & Grace Presents: WATER UNDER THE BRIDGE
Grit & Grace The Official Folk Life Production of Walton County Presents "Water Under the Bridge". A community based theater group performing at The Florida Chautauqua Theatre.
SHOW DATES: July 19 & 20 at 7:00 PM and July 21 at 2:00 PM
Online TICKETS:
https://fl-chautauqua.square.site/home
*If you have problems EMAIL us at [email protected]
Inspiration Institute held it's first PIGMENT class on June 12 at the Florida Chautauqua Theater Rehearsal Hall. Twenty budding artists painted mason jar shaped door hangers. Instructor, Amanda Bierbaum, worked with students helping them to personalize and create summer themed door hangers. Artists enjoyed beverages "of their choice" and snacks while they painted and went home with happy hearts and fun art projects to share! Stay tuned for the next classes coming in October (Fall theme) and November (Christmas theme)! Event dates and times will be posted here on our website and on our Facebook page!
Donna Wissinger returned to Walton County Schools
to celebrate and perform:
The Pied Piper and other Fantastic Tales
Magic happens in the hearts and minds of teachers and students when learning is joyful, attention rapt and everyone is eager for more. In The Pied Piper and other Fantastic Tales, flutist and storyteller Donna Wissinger draws children into a musical world of active listening and imaginative thinking. Weaving a piper's spell with her golden flute she mesmerizes students with her stories of galloping horses, legendary heroes of bow and arrow, and myths from far away lands and secret wardrobes, all while teaching science, mathematics, social studies and language arts.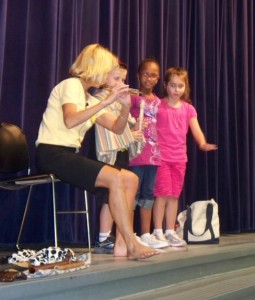 The Florida Chautauqua, Inc
sponsored
DONNA WISSINGER
as she proudly presented:
The World Turned
Upside Down:
Music and Stories
of the American
Revolution
Drum Roll!
Students immediately feel the freedom call of fife and drum and march back in time with red coats in their midst. Learning Flash! These red coats are musicians in George Washington's Continental Army. Local fourth and fifth grade students throughout Walton County, experienced revolutionary stories and participated as patriots, loyalists and courageous leaders in this world changing period of American history. Walton County students learned the music, important documents, dates, events, and personalities that continue to shape their country and lives with an exciting live presentation of the American Revolution presented by expert flutist, Donna Wissinger. Donna taught the students, "History is a subject about people who dared to live their lives courageously. We learn how to write our own life stories by knowing theirs".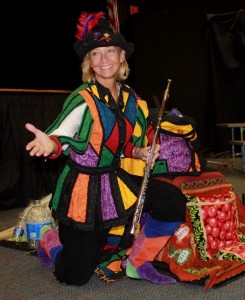 The performances were sponsored by The Florida Chautauqua, Inc. and in part, by a grant from the State of Florida Division of Cultural Affairs and The Florida Arts Council.